Create a dazzling pool experience with Jandy Pro Series pool lighting.
Energy-efficient RGBW pool and spa lights
Jandy WaterColors pool and spa lights offer energy efficiency in an ultra-slim profile and simple installation. The addition of the White diode to our existing RGB lights will even further enhance the brilliance of the nighttime pool experience by providing a purer white tone. WaterColors are ETL classified and fit into existing niches from Pentair and Hayward as well as Jandy ProNiches.
Features
Dedicated white LEDs in addition to Red, Green and Blue LEDs
Choose from nine vibrant colors or five dramatic light shows
Long life, less than 50 watts of power, available in 120V and 12V versions
Controlled by a single light switch or seamlessly interfaces with our Smart Color Control
WaterColors Nicheless LED Lights with HydroCool Technology
Cool by Design
The Jandy Pro Series WaterColors Nicheless LED lights with HydroCool™ technology use an innovative, energy-efficient design that harnesses the cooling power of water to create a cooler running, longer lasting* light. Designed to fit in a standard 1-1/2″ return fitting, these lights are smaller to accommodate complex pool designs, and operate at lower wattages, while providing the same brilliant illumination as previous models.
*Based on internal testing
Features
Bright illumination that reduces energy costs using less wattage than ever before
Triple-material, unibody construction design eliminates common leakage failure points
The diffuser lens provides better blending of light for the clearest and most consistent lighting in its class
Quarter moon and half moon lens covers are available as optional accessories to eliminate reflective shadows/halos on the pool floor
White LED Pool and Spa Lights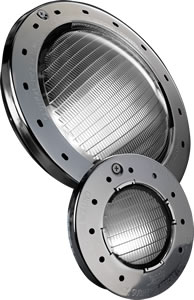 The new Jandy Pro Series White LED lights are available in both Daylight to enliven your pool or spa at night with the bright, energizing illumination of natural daylight, or Warm White to add richness and a soft, inviting glow similar to incandescent lights. Highly energy-efficient, these lights use only 18 to 65 watts of power, come in 120V and 12V versions, and are ETL listed (approved) for installation in Jandy as well as in most leading competitors' niches, making them a versatile, safe, and compliant lighting solution with virtually any power supply or niche – existing or new.
Features
Color Temperature Options
The Choice is Yours—Which white light is right for you? Choose between Daylight or Warm White
Daylight—With a color temperature of 5000K, the Daylight option provides refreshing illumination of the pool, much like daytime sunlight, and will appear brighter than Warm White lights, and to some, slightly bluish.
Warm White—With a color temperature of 2700K, this light provides a comfortable and soothing light similar to incandescent lights. Warm White lights will often match the color of landscape lights, where warmer light is preferred for illuminating greenery, or providing a soft glow for architectural uplighting.
Enhanced Function
Energy Efficient Design—Highly-efficient lighting designed to use less than 65 watts of power (available in 120V and 12V versions)
Simple Operation—Lights may be operated with a simple on/off switch, or controlled via the iAquaLink™ app when paired with AquaLink automation. (Not for use with dimmers.)
Durable Design—Time-tested stainless steel housings ensure long-term reliability
Easy Upgrade
One Light Fits All—Compatible and compliant for use in all Jandy and most competitive niches—both color temperatures maintain the integrity of the LED lights as a pool safety feature.
Shine Bright—Easily upgrade incandescent lights while maintaining the equivalent brightness of 100w, 300w, and 500w illumination.
White Incandescent Pool and Spa Lights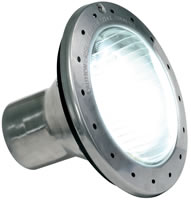 Light up the night with Jandy Pro Series White pool and spa lights. Illuminate your pool and spa for an evening swim, backyard entertainment and added safety.
Features
Corrosion-free stainless steel housing, long-lasting bulbs, and diffused tempered glass offer you hassle-free ownership
Incandescent version offers you all the choices you need for any pool
Available in 12V and 120V models
Plastic and stainless steel niches available