Available in mesh or solid, the Performance safety cover by Latham Plastics, Inc. provides total safety for children or pets while protecting your pool during the winter months. Available in a choice of colors, in standard sizes or custom computer designed to fit any shape or size pool. Standard covers are made with 5′ panels, custom covers with 3′ panels.
Performance covers carry a 12 to 15 year warrantee with the first 3 years non pro rated. This is the best warrantee in the safety cover industry.
FAMILY SAFETY AND SECURITY WITH COVERLON BRAND COVERS
Take the worry out of owning an in ground pool. Our "Trampoline style" cover is held down with springs and anchors, ensuring there are no gaps between pool and ground; children and pets cannot fall or slip into pool. The Performance safety cover is tamper proof, requiring a special tool to remove it. It is the only cover which places webbing on both sides of the cover, and stitched with triple threads that are bonded. All other perimeter intersections have a cross and box stitch. These features produce a cover with superior strength and durability.
SOLID – FOR THOSE WANTING LOW CLEAN-UP SPRING OPENINGS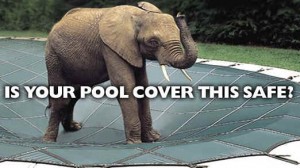 The Performance safety cover Solid is made from polyester scrim sandwiched between two layers of vinyl. It is sewn together with heavy duty webbing on both sides with bonded thread making the cover exceptionally strong. With correct water treatment during the winter months, pool opening will be a delight, with the water remaining crystal clear.
 SPECIAL FEATURES
Unique one piece "Easy Adjust" stainless steel spring system requiring a fraction of the time for installation and adjustments.
All noncorrosive brass and stainless steel hardware.
Available in MESH or SOLID material in several designer colors.
All covers come with hardware, including a special installation tool.
Comes complete with its own storage bag.
MEASURING YOUR POOL
For standard pools, an on-site measurement is not required. To calculate the size of the cover required for a rectangular pool, add 2 feet to both the length and width of your pool. If cover size is not an even foot measurement, round to the next closest foot (e.g., 16'6" becomes 17', while 16'4" becomes 16' for pricing purposes). If ladders are not removable, add $50.00 for each ladder cutout.