JXi™ Pool & Spa Heater
An Ultra-Compact and Energy-Efficient Gas Pool Heater
An Ultra-Compact and Energy-Efficient Gas Pool Heater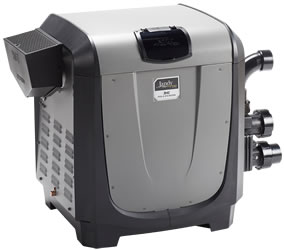 The JXi™ heater sets the standard in pool and spa heating with unsurpassed energy-efficiency and optional cost-saving Integrated Bypass technology that diverts water flow away from the heater when there is no call for heat. Boasting an 84% thermal efficiency rating and a low-NOx design, the JXi is available in both natural and propane gas models. The JXi also features advanced automation compatibility with AquaLink® systems and iAquaLink™ control, for anytime, anywhere convenience, and an ultra-compact, lightweight design, that allows for faster and easier installation—making it a top choice for pool professionals and pool owners everywhere.
Pro-driven features for the fastest, most customer-friendly pool heater installation include:
Ultra-compact, 2'x2′ footprint for small space requirements and maximum installation flexibility
Lightweight design, weighs less than 126 pounds unpackaged, for easy maneuverability and transport
Best retrofit option, no plumbing adjustments required for quick and easy replacement of Mastertemp® and Max-E-Therm® heaters
84% thermal efficiency rating and low-NOx design surpasses strict DOE energy-efficiency requirements
VersaFlo Integrated Bypass technology for JXi available installed from the factory (select models) or as an easy retrofit to any JXi on site.
Offers up to 20 percent additional energy savings***
Automatic actuation of flow bypass valve is based on call for heat and does not require human interaction
The flow bypass valve is integrated into the JXi's header, requiring no external plumbing modifications
The hydraulic savings of VersaFlo make it the perfect complement to Versa Plumb®, which reduces plumbing costs
***Versus a similar system without VersaFlo .